The World Cooperative Monitor (WCM) is a project designed to collect robust economic, organizational, and social data about cooperatives worldwide. It is the only report of its kind collecting annual quantitative data on the global cooperative movement. Published annually since 2011 by the International Cooperative Alliance and Euricse, it aims to develop a multi-dimensional database reporting on the socio-economic value and impact of cooperatives both within a global scenario and in their regional and national contexts. The World Cooperative Monitor is the successor to the former Global 300 project.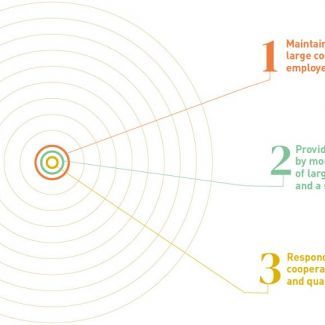 An ongoing goal of the project is to continuously expand and enrich the database, with the aim of increasing the number of businesses being monitored and their geographic and sectorial distribution, and the gradual integration of new categories of data, more oriented towards an understanding of the social impact of the businesses being monitored.
Over the years, focus chapters on topics of relevance to cooperatives and mutuals have been included in the report. For example, the chapters on cooperative capital in 2016 and 2017, the focus on the United Nations Sustainable Development Goals (SDGs) starting in 2018, and the chapters exploring the response to COVID-19 in 2020 and 2021. The WCM research team works in close collaboration with the ICA's ICETT think tank to determine the issues of relevance to the cooperative movement. View the 10 year timeline for an overview of our outcomes.
"The importance of the World Cooperative Monitor cannot be understated. Not only is it a crucial tool which we can use to raise the profile of cooperatives to policy-makers and industry professionals, but it also provides an incredibly useful starting point for researchers and academics alike...Before the existence of the Monitor, data on cooperatives was patchy at best, but now we have strong empirical evidence that our movement is a global economic player with an important stake in the world's economy. Cooperatives have been given a precious tool which I strongly encourage them to use to demonstrate how important our enterprise model is." - Dame Pauline Green
Benefits of the World Cooperative Monitor
Share best practices, highlighting successful and innovative cooperatives and mutuals
Improve statistical and data methodology to allow better analysis of coop performance and impact
Demonstrate the economic importance of cooperatives and mutuals to government and regulatory agencies