What is the World Cooperative Monitor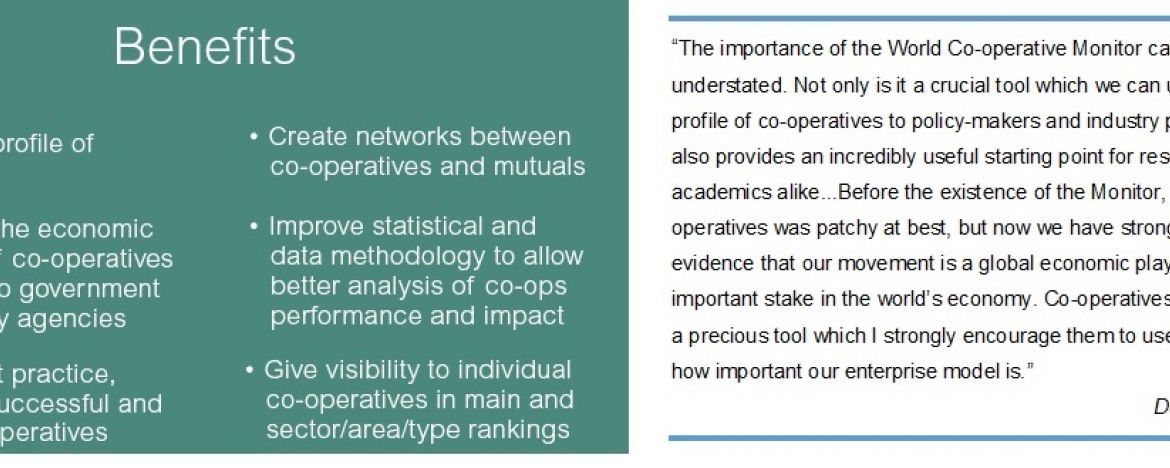 The main goal of the World Cooperative Monitor project, published annually since 2011 by the International Cooperative Alliance and Euricse, is to develop a multi-dimensional database reporting on the socio-economic value and impact of cooperatives both within a global scenario and in their regional and national contexts. The World Cooperative Monitor is the successor to the former Global 300 project.
An ongoing goal of the project is to continuously expand and enrich the database, with the aim of increasing the number of businesses being monitored and their geographic and sectorial distribution, and the gradual integration of new categories of data, more oriented towards an understanding of the social impact of the businesses being monitored.
In 2016, Euricse developed an additional component of the report investigating the sources and structures of cooperative capital for the top 300 cooperatives from the World Cooperative Monitor. This research, a continuation of the work commissioned by the Alliance's Blue Ribbon Commission on Cooperative Capital and conducted by the Filene Research Institute has now become an integrated feature of the World Cooperative Monitor with the goal of increasing the scope of research in the future.
The World Cooperative Monitor database contains data collected through an online questionnaire addressed directly to cooperative and mutual organizations. That data is also integrated with existing databases and other data collected by national associations, research institutes, sectorial organizations and others.
To submit your cooperative's data, please fill in the short questionnaire available at this link.